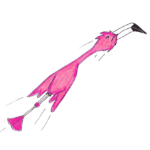 Team Francisco is currently working on a sequel in which Francisco flies home for a family reunion in Chile! Stay tuned!
We REALLY want to commission a huggable Francisco in his aviator's cap and scarf. We are trying to find a vendor that will provide both a quality design and a low enough cost to be pocketbook friendly!
We love talking about Francisco and would be honored to speak to your class or group! In-person or virtual visits can be scheduled. Check out our Contact page to get a hold of us!